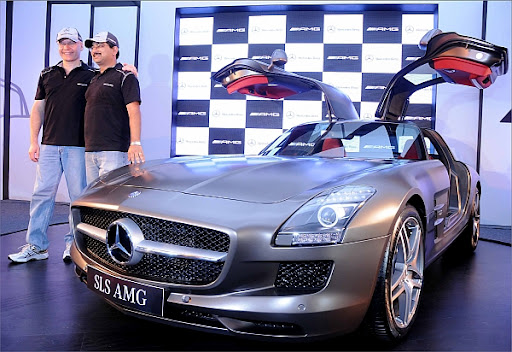 Mercedes-Benz today launched its flagship super sports car for the Indian market: the SLS AMG. The statement from the global CEO of Mercedes-AMG GmbH, Mr. Ola Kaellenius, encapsulated his aspirations for the product, "Today India joins the elite ranks of the first few RHD markets globally to launch this mean machine. Given the strong demand for this car, I assure you that it is really a very strong and positive statement and shows the esteem that India as a market holds for us."
Dr. Wilfried Aulbur, Managing Director and CEO of Mercedes-Benz India: "The SLS represents the true spirit of our brand: It is "The Best or Nothing" in terms of emotion, design, racing exhilaration, path braking motorsports technology, while at the same time offering Mercedes-Benz quality, safety, and functionality. We are excited to launch the vehicle in India just a few weeks after the start of production of RHD vehicles in Germany."
India is amongst the first right hand drive markets to launch the Gullwing super sports car within the first few weeks of its production (first RHD production : June 2010)
Since its presentation in January 2010, the SLS AMG has already achieved 10 confirmed customer bookings from India.
The SLS AMG has captivated people all across the world with its purist design, intelligent lightweight construction and superior handling dynamics. It is the first independently developed vehicle by AMG in its illustrious history spanning over 40 years. It not only takes AMG, the performance brand within Mercedes-Benz Cars, into a new era, but also demonstrates development expertise of the very highest order.
Dr. Wilfried Aulbur, Managing Director and CEO of Mercedes-Benz India commented: "The SLS AMG represents the true spirit of our brand- 'The Best or Nothing'! It embodies passion, performance, design, technology and engineering excellence- values that make us one of the most exciting brands in the world, today."
The innovative, puristic sports car design on the exterior complemented by the puristic , aviation inspired interior designs create a cutting edge , exclusive piece of art with superior driving dynamics due to the modified AMG 6.3 – litre V8 front mid-engine, the AMG SPEEDSHIFT DCT 7-speed sports transmission , the AMG speed-sensitive sports steering and the light yet rigid aluminium space frame. With a solid body structure, AMG high- performance composite braking system, 3-stage ESP and other inventions this car exhilarates automotive enthusiasts while not compromising on the basic qualities of Mercedes: Quality, Safety, Reliability and Exclusiveness. The SLS AMG's dry sump lubrication allows the car to do a 360 degree rotation while running showcased in the SLS Michael Schumacher film.
Additionally the SLS satisfies the desires of the most elite customers by offering a range of customization opportunities via the AMG Performance Studio.
The first Mercedes ever was a very successful race car, with the SLS AMG Mercedes-Benz AMG is leveraging its motor racing experience fully for customers and takes their driving experience to the next level!
Mercedes-Benz SLS AMG also wins over the hearts in the F1 circuits where it is the Official F1™ Safety Car. This vehicle is deployed whenever hazardous situations such as accidents or bad weather endanger normal racing thereby ensure maximum safety in Formula 1 circuit. All Mercedes and AMG fans have been excited seeing the gullwing model together with the new Mercedes GP Petronas Team at the F1 circuits.
The SLS AMG was first presented in India during the Auto Expo 2010 at New Delhi. The response to the car from customers and aficionados in India has been overwhelming… just like in every other place in the world. Mercedes-Benz India has indicated about 10 confirmed bookings for this car received until June 2010.