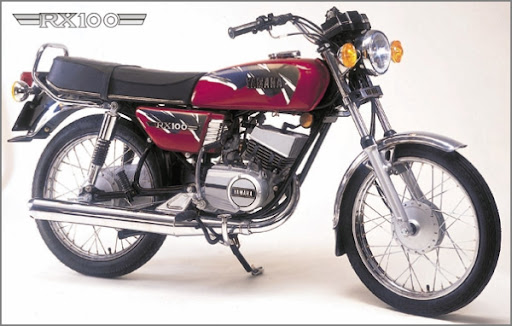 India Yamaha Motors, a subsidiary of the Japanese biking giant, is working on a relaunch of its once-popular model, the RX 100. The company is examing various options, such as engine type and styling. However, sources say it would largely maintain the basic design of the earlier vehicle, which drove demand for the company.
Known for its acceleration and agility, the RX 100 was the choice of many young Indians in the mid and late 1980's, after Yamaha (in partnership with Escorts) launched it in 1985.
One reason the RX 100 was phased out by Yamaha was the adoption of stricter emission control norms in the country. The RX 100 was a high polluter. Its two-stroke engine had a problem meeting the required norms, first brought about in the mid-1990s.
Eventually, most two-stroke bike manufacturers either upgraded their models with four-stroke engines or simply terminated production and replaced these with different models. Yamaha opted to shut production of the RX 100 in 1996, as more frugal, fuel-efficient and low on maintenance four-stroke bikes made their way into the market.
Yamaha will not relaunch the RX 100 with a two-stroke bike, as India would upgrade to even stricter Bharat Stage IV emission norms in the coming months. "We cannot launch the RX (100) with a two-stroke engine but we are working on a four-stroke version for the bike," added Dubey.
The launch could catapult Yamaha's volumes multi-fold if the bike is priced in the same category as other entry or commuter level bikes, says experts.
Source: Business standard