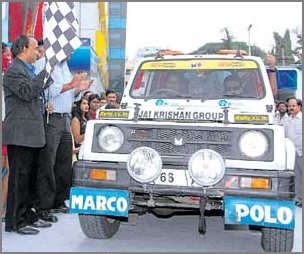 The rains have started and Team Goa too has got to a flying start at the Maruti Suzuki Dakshin Dare Rally. The rally was flagged from Bangalore and today was the first day.
After some time tough time traversing the traffic Team Goa drove flat to reach Mysore to inch the second spot on the first day. They are just 19 seconds behind from the team which reached first.
The terrain was bad and Team Goa did face some few hurdles with damaging their Car however managed the rest of the rally with ease covering 326 Km.
Currently Team Goa is on the Second spot.
They will drive through the jungles and muddy roads of Croog and will reach take their second halt at Ooty.
We wish all the best to Team Goa..  Keep Tuning to get in more updates